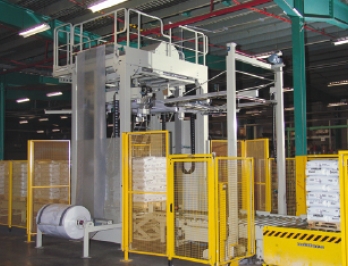 Omschrijving
Automatic transverse stretch hooder HSA-series


The automatic transverse stretch hooder HSA-HE with the patented High-Expander-Transfer-Stretch-Technology*) produces stretch hoods from highly extensible stretch film which is stretched by up to 150 % from a tubular film of very small width. In order to pick up the narrow film the stretch-fingers are brought into a narrow-nesting position**).
With the contour stretch process***) the stretch hooder can adapt the stretch-width to the permanently-changing load dimensions. Various pallet formats can be stretched with the same tube width.
Main advantages:
• Great security effect through considerable strength of film's tensile strength
• No film changeover with various pallet formats
• Film saving through high film extensibility
Download PDF >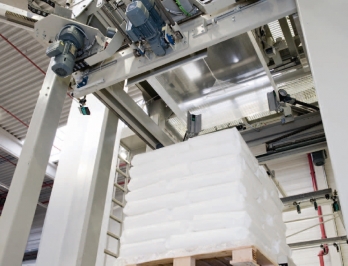 Omschrijving
Palletizing and Stretching: Innovation by Combination
Palletizing Technology of highest quality combined with our extremely efficient Transverse Stretch Hood Technology – the concept of the 2 in 1 Series.
Using a minimum of space, Möllers Group combines two well-established and high-end technologies, creating a true innovation in the field of palletizing and load security.
Applying the know-how and experience of both technologies, Möllers Group has developed a two-component system that meets the highest demands: The floor-leveled automatic palletizer stacks packaged goods stably and securely onto any desired pallet format. Finalizing the palletizing process, the integrated Automatic Transverse Stretch Hooder efficiently secures the stacked loads applying only a minimum of film.
Future-oriented Concept Palletizing and load securing in the same single spot requiring just one single control system while profiting from
low energy consumption, without requiring any further conveying technology – a concept with foresight.
Download PDF >