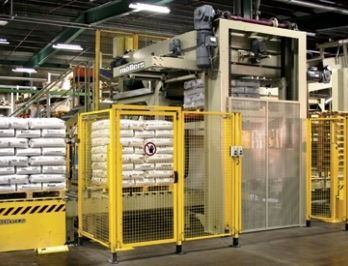 Omschrijving
Automatic Palletizers with Slide Plate System - PLS
Möllers-PLS-Palletizers are of modular construction and configurable in various ways and can be used universally for palletized goods of all kinds, shapes and sizes. The distinguishing characteristic is the gentle package-handling method with which the machines were designed for poor robustness of shape especially for bagged goods. PLS-Palletizers are manufactured in two series with various selectable elements for the low-shape loss forming and positioning of packaged goods layers and differing drive variants for knock-free movement in the palletizing process.
PLS-B series automatic Palletizers suits the demands of the building materials industry with palletizing capacities of up to 4500 sacks/hr.
Download PDF >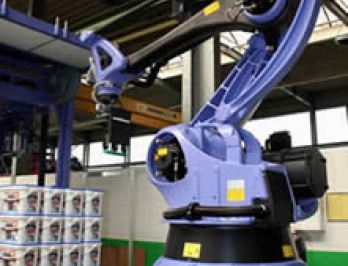 Omschrijving
Palletizer Robots
As an important alternative to automatic Palletizers, Palletizer robots can be programmed for an almost unlimited number of package formats and layer patterns. Besides they can take on additional tasks e.g. sorted distribution of packages to several pallets and depalletizing of packages.
Möllers uses its self-developed ROMEO-Robot HSG-1 as well as robots of other proven models and equips them for palletizing of bags with the Möllers-Special-Bag Gripper, which picks up the bags gently with its own special operating method and can deposit them tightly next to each other on the pallet.
Download PDF >